Настройка общего доступа между Windows 7 и Windows XP

Содержание
Введение
Если у вас есть домашняя сеть, вы работаете в Windows 7, а на другом компьютере установлена XP, у вас может возникнуть необходимость открыть общий доступ к файлам между ними. Сегодня мы рассмотрим, что необходимо для общего доступа к файлам и устройствам, таким как принтер.
Общий доступ к файлам в Windows 7 и ХР
Общий доступ к папкам между двумя компьютерами под управлением Windows 7 с новой функцией Home Group — простейший процесс, но HomeGroup несовместима с Vista и XP. При написании этой инструкции мы использовали Windows 7 x64 RC1 и XP Professional SP3, соединенные через домашний беспроводной роутер Linksys.
Сначала убедитесь, что обе машины состоят в одной и той же рабочей группе, которая по умолчанию называется просто Workgroup.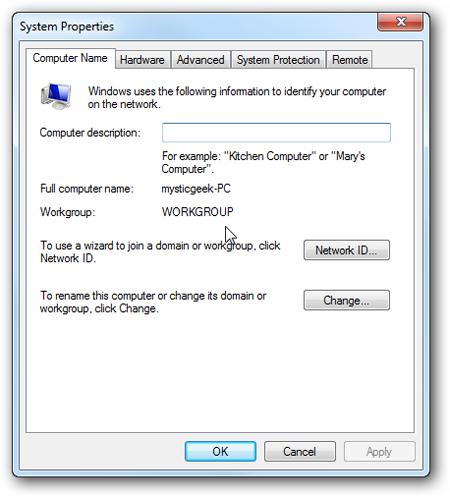 На компьютере с Windows 7 откройте Панель управления -> Сети и Интернет -> Центр управления сетями и общим доступом (Control Panel -> All Control Panel Items -> Network and Sharing Center), а затем щелкните по ссылке Изменить дополнительные параметры общего доступа (Change advanced sharing settings).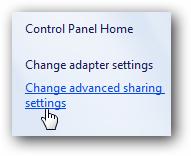 В окне Дополнительные параметры общего доступа (Advanced Sharing Settings) сверьте настройки с нижеприведенными для профилей Домашняя сеть или сеть предприятия (Home or Work) и Общедоступная сеть (Public).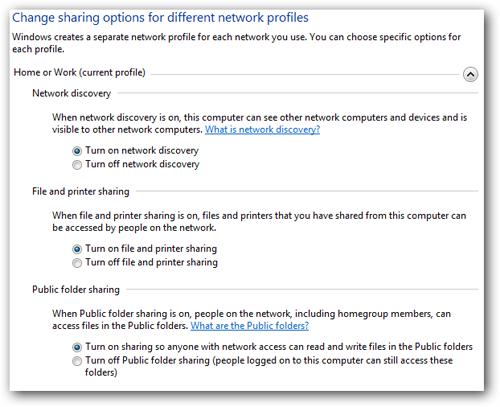 Если вы хотите, чтобы любой пользователь имел доступ к общим папкам, отключите защиту паролем. Эта опция располагается в Дополнительных параметрах общего доступа в самом низу списка.

Если вы хотите оставить эту опцию включенной, убедитесь, что на компьютере под управлением XP существует учетная запись с установленным паролем.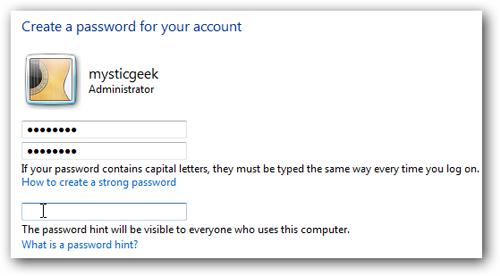 Теперь, если вы пройдете в панель управления Сеть (Network) в Windows 7, вы должны увидеть ваш компьютер ХР, а также Windows 7, который в данном случае называется Mysticgeek-PC.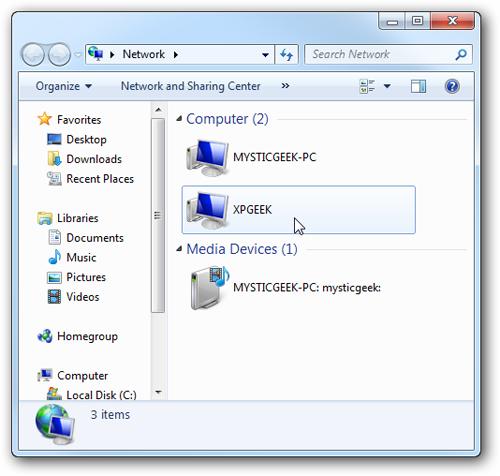 Чтобы открыть общий доступ к принтеру, на компьютере Windows 7 из меню «Пуск» пройдите в Устройства и принтеры (Devices and Printers) и дважды щелкните на иконке принтера.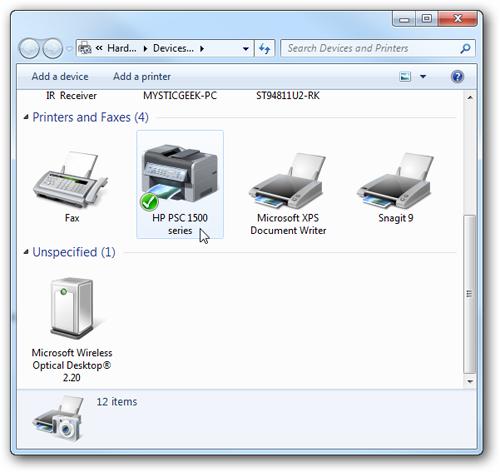 Затем дважды щелкните по «Настроить ваш принтер» (Customize your printer).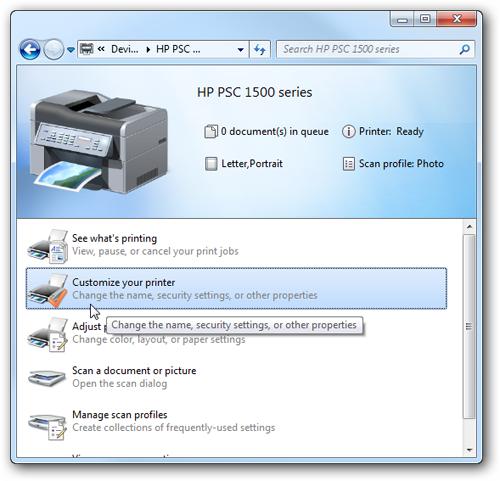 В окне Свойства (Properties) перейдите на вкладку Общий доступ (Sharing) и проверьте галочку, позволяющую общий доступ к принтеру, и введите в поле его имя.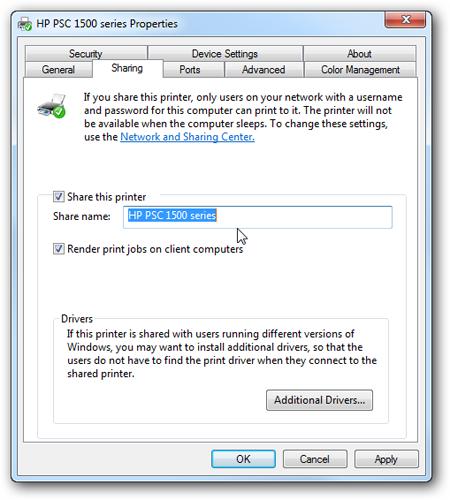 Если на вашем компьютере установлена ХР x86, вы можете установить Дополнительные драйверы (Additional Drivers) еще до настройки ХР.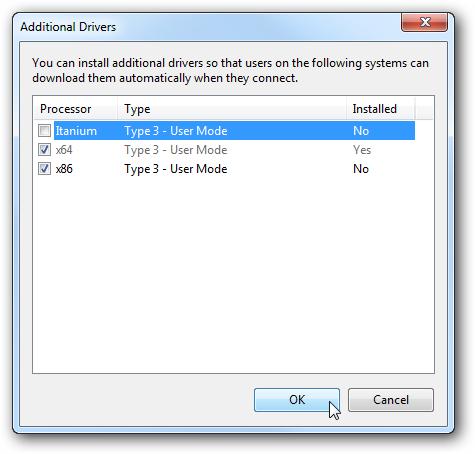 Чтобы найти общие папки и устройства, дважды щелкните на иконке компьютера Windows 7 в Сети (Network). Здесь вы можете увидеть мой общий принтер, подсоединенный к машине Windows 7, а также папку Users.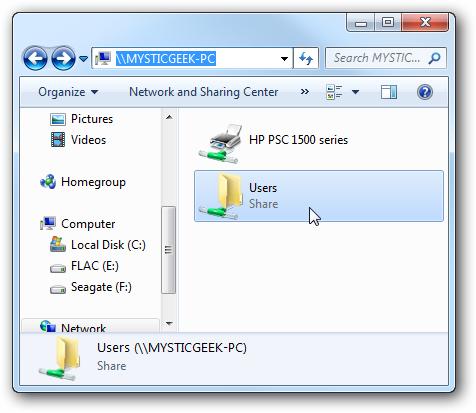 Пройдите в папки Users и Public, чтобы увидеть общие папки. Здесь я также создал папку под названием XP Share, просто для того, чтобы хранить все в одном месте.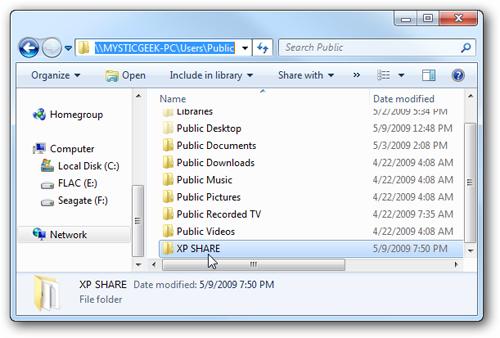 На вашем компьютере с ХР откройте Сетевое окружение (My Network Places), чтобы найти общие папки Windows 7 (mysticgeek-pc).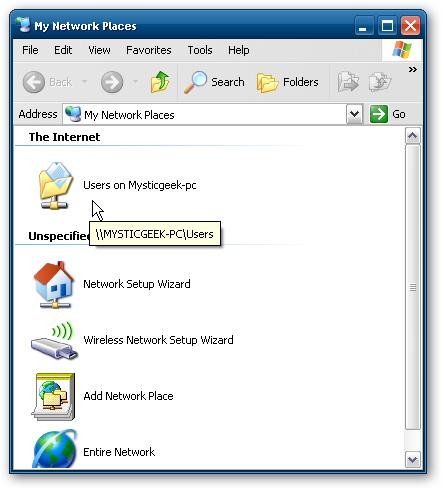 Дважды щелкните на папку Share, чтобы найти список общих папок в папке Public в Windows 7. Если у вас включена защита паролем, вам сначала понадобится ввести имя пользователя и пароль от учетной записи Windows 7.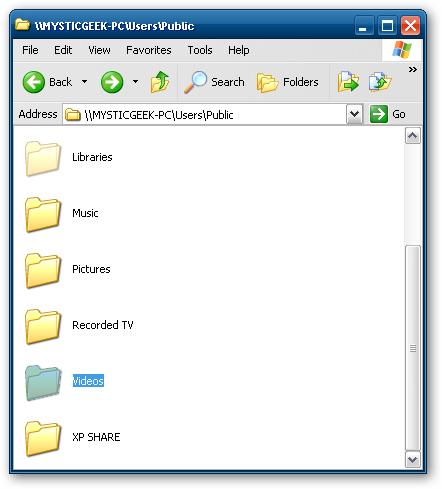 Настройка ХР с общим принтером
Чтобы установить общий принтер в ХР, вам понадобится пройти в Принтеры и факсы (Printers and Faxes) из меню «Пуск» и вызвать Мастер установки принтеров (Add Printer Wizard).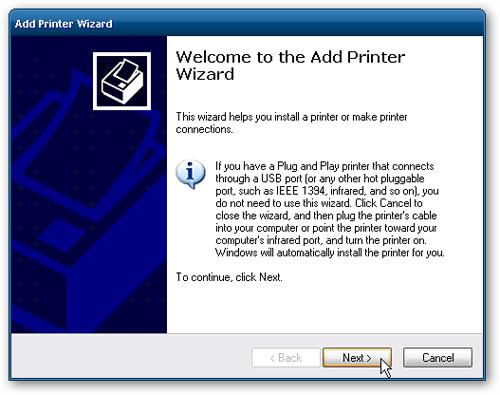 Там выберите «Сетевой принтер, подключенный к другому компьютеру» (A network printer, or a printer attached to another computer), затем нажмите Далее (Next).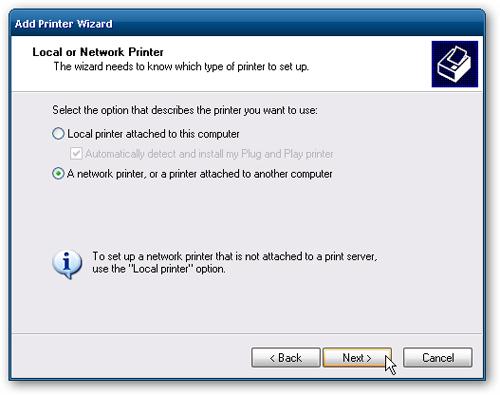 Далее выберите «Подключиться к этому принтеру» (Connect to this printer…) и введите в поле путь к принтеру, подсоединенному к Windows 7 и нажмите Далее (Next).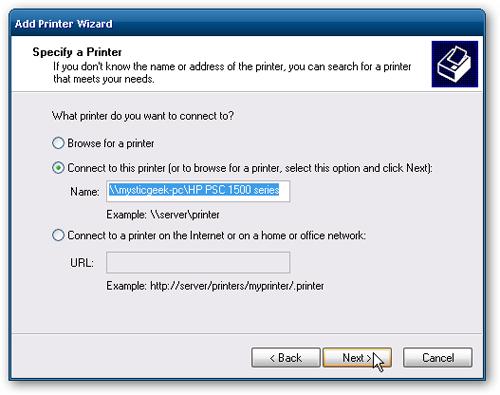 Теперь нажмите Да (Yes) в подтверждающем диалоге.

Затем нажмите Готово (Finish), чтобы завершить работу мастера.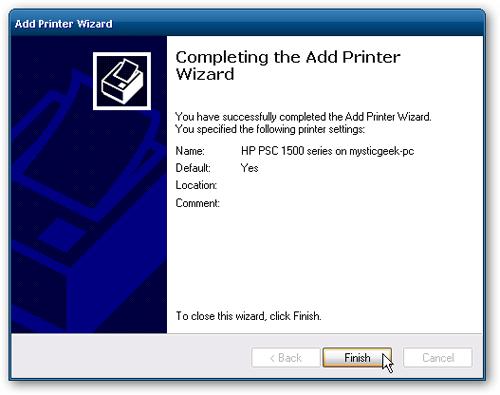 В некоторых случаях вам понадобится установить драйвер х86 ХР для общего принтера, поскольку драйверы Windows 7 несовместимы с ХР. Когда все будет установлено, откройте Принтеры и факсы (Printers and Faces), чтобы найти общий принтер.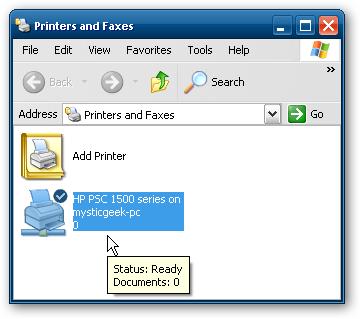 Эта инструкция должна помочь вам открыть общий доступ к вашим файлам и другим устройствам на компьютере с Windows 7. В моем случае, я сразу же на ХР увидел принтер, поскольку у меня была настроена HomeGroup, но как только я удалил ее, мне пришлось открывать общий доступ к принтеру, как придется и вам, через рабочую группу. Вам также, возможно, придется несколько раз перезагрузить компьютер с ХР, чтобы увидеть общие ресурсы Windows 7.
Источник статьи: http://www.windxp.com.ru/win7/article1.htm
Need to access files from xp hard drive via usb dock on new Windows 7 desktop
I have low to medium tech skills;however, I can follow directions flawless and am easily teachable. Had a Dell xp e510 motherboard that went bad. Bought a new destop with internal drive and hooked the old xp drive up via usb and external sata dock. The new windows 7 system immediately recognized the xp drive however most (95%) of the pictures and items created in Microsoft office and Corel Draw, pictures, etc. are not discoverable. I know they on there «somewhere» however, I don't know how to find them and make them accessible. Ultimately I would like to take the Data from the old XP drive (now showing up as F) and consolidate it all to the new systems C Drive. Directions to do this as detailed as possible would be sincerely appreciated. I have seen blogs where it says that it has to do with «permissions» however I'm not sure what that is referring to. Like I said. Step by step would be golden.
Thanks in advance for any help
2 Answers 2
Most user documents in Windows XP will be in a folder called «Documents and Settings» and in that folder there are folders for each of the user accounts on that machine. Inside those folders, you should see «Desktop» «'s Documents» etc. Your files «should» be in there somewhere.
When opening the folder, Windows 7 will probably prompt you to override the existing permissions. Assuming your XP install is no longer bootable, you should be able to acknowledge this warning and go on your merry way. It might take a bit for the machine to go through all the files in the subfolders to reset the ACL (file permissions).
Like Mike said, all of your files should be in «Documents and Settings,» but you will probably have to change the permissions on these files to be able to see them in Windows 7. To do this,
Right-click on the Documents and Settings folder and select Properties and click the Security tab.
Click Advanced and then the Owner tab
Click Edit. and then choose your user name in the Change owner to: box
Check the Replace owner on subcontainers and objects box
Click OK and then Yes when Windows asks you if you want to assign yourself Full Control of everything in the directory
Click OK and wait while Windows changes the permissions
After this process you should be able to read everything in the Documents and Settings folder.
Источник статьи: http://superuser.com/questions/515398/need-to-access-files-from-xp-hard-drive-via-usb-dock-on-new-windows-7-desktop
I have a small business network, where there is a centralized imaging machine. This machine then has a shared folder with all the stored images. Originally the imaging machine was an XP, and the shared folder was easily accessed by all. However, we recently had to upgrade that machine to a new one with Win7 installed. The same shared folder is no longer accessible from the XP machines. I'm also assuming that the local firewall isn't causing issue since previously the connection was fine.
The Exact error that I get:
Turned off firewall on both computers
Made sure that 'everone' and specific user connecting has full permission
I can run net view command from command prompt and see the imaging machine
I CANNOT ping the 'imaging.domain.localhost' successfully from the XP
I CAN ping the specific ip address of the imaging machine (win7) from the XP
I CANNOT access the shared folder from another Win7 machine
I CAN connect via ip address: \192.168.1.1
Note: this is joined to a domain
Update:
Although the static ip address and NAT routing table appears to solve the situation, whenever I use the host name (\imaging) vs ip address (\192.168.1.1) the ip address resolves immediately while the 'imaging' takes roughly 30 seconds to 1 min.
3 Answers 3
Make sure that the imaging system has a static ip address
Make sure that the NAT routing table correctly resolves the host name to the ip address:
\imaging —> \ \192.168.1.1
Make sure that public folder sharing is enabled
Make sure that File and Printer Sharing is enabled
Both steps 3 and 4 can be found in Control Panel—>Network and Internet—>Network and Sharing Center—>Advanced sharing settings
You should be able to connect to the machine by typing in the UNC path name (\\computername). On most machines, you will get an empty explorer window. If you get that far, try sharing the folder again.
You do this by right clicking on the folder and going to properties. Under the Sharing tab, click the share button and specify who you want to share the file with. This will generally create the NTFS permissions for you. You could also hit the Advanced Sharing button and manually set the share level Permissions.
The only other issue could be some random Group Policy setting that is causing problems. Do you have other Win7 machines that work? This sounds like a weird configuration setting issue.
If you are unable to connect using a UNC path, then there is something weird going on. Make sure that the DNS name is resolving properly. That could be a domain issue.
Other than that, you should make sure that the network discovery and the like are turned on (step 2 on this page). You might also want to make sure that password protected sharing is off. Make sure that you are setting the correct network type for this. If you go to network and sharing center, make sure that it is not a «public» network.
Windows 7 and XP networks, in my experience, are not quite compatible. Interaction might work, or it might not. The network might work correctly today, but not work tomorrow.
One major problem is defining the master browser computer for the network. The article Computer Browser contains a good explanation of the problem, and how to assure that the right computer is elected as the master. The problem to avoid is for Windows 7 to come up and decide that it is the master browser of its own network of one, while the XP computers elect one of themselves as master browser of their own little network. Windows 7 should normally provoke in due course a re-election of the master browser for the network, but this can take quite a long time (unless you have a domain).
To make the XP machines discoverable by Windows 7, you should install on them the Link Layer Topology Discovery (LLTD) Responder. Windows 7 should also have the Guest account enabled with the right permissions, since the XP machines might identify themselves as Guest (unless you have taken other steps).
If everything fails, the last resort is giving all the machines fixed IP addresses and updating the hosts files on your network to contain all the addresses.
Workgroup Name of all the computers should be the same.
In Vista Network and Sharing:
Network Discovery: ON (So it can see the other computers)
Network set to Private (Public is for hotspots, airports, etc)
File Sharing: ON
Public Folder Sharing: ON (Vista Public Folder is the same as XP Shared Docs)
Password Protected: OFF (unless you want to set up identical usernames and passwords on all computers in your Network). If you have it ON, you will be asked for a username and password when you try to access a Vista computer from an XP computer.
Run the XP Home Network File and Printer sharing Wizard.
Источник статьи: http://superuser.com/questions/284404/windows-xp-cannot-access-a-windows-7-shared-folder